Tsome Recipes March 2021
Classic Shiro
100% vegan ingredients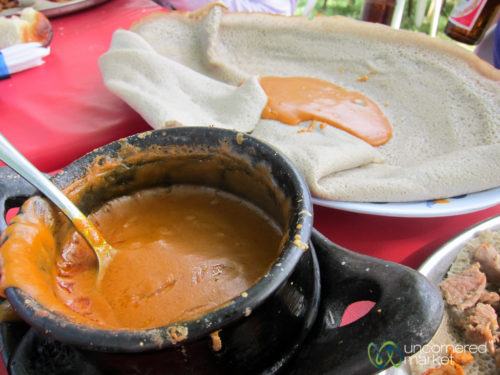 Ingredients
2 tbsp cooking oil/ olive oil
1 yellow onion
1 tomato
2 cloves of garlic
1/2 cup Shiro flour available right here in injeraforyou.com
3 cups water
2  tsp salt or more based on your preference
Instructions
Finely Chop your onion, garlic, and tomato and saute in a medium pot for a few minutes until the water has more or less cooked away. Follow by adding your oil and let it saute a few more minutes until onions are translucent.
Add the water and salt and bring to semi boil.
Then add the Shiro and mix well until there are no lumps. Add a bit more water if needed. It should be a bit thick sauce but still remain liquid at this point.
simmer over medium-high heat. for 20 to 30 minutes.
Serve over injera and with a tomato salad and other vegetarian dishes.
Healthy and delicious Ethiopian recipes:                   ORDER NOW!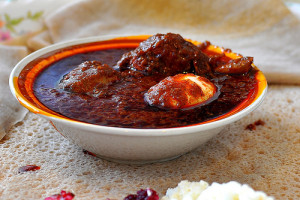 DORO WOT
Ingredients
2 medium red onions, diced
Salt
¼ cup Spiced Butter or 4 tablespoons (1/2 stick) unsalted butter, divided
¼ teaspoon ground cardamom, preferably freshly ground
¼ teaspoon freshly ground black pepper
3 cloves
2 garlic cloves, finely chopped
1 ½-inch piece of ginger, peeled and chopped
1 tablespoon Berbere or chili powder
2 ½ cups chicken stock, divided
One 4- to 5-pound chicken, cut into 10 pieces, wings reserved for another use
¼ cup dry red wine
Juice of 1 lime
2 hard-boiled eggs, peeled
Preparation:
Combine the onions, a pinch of salt, and half of the spiced butter in a Dutch oven or other large deep pot over low heat. Cook, stirring occasionally, until the onions are golden, about 15 minutes. Add the remaining butter, the cardamom, black pepper, cloves, garlic, ginger, and berbere and cook until the onions soften and take on the color of the spices, about 10 minutes.
Add 2 cups of the chicken stock and the chicken legs and thighs, bring to a simmer, and simmer for 15 minutes. Add the remaining ½ cup chicken stock and the wine, bringing back to a simmer, and simmer for 10 minutes. Add the chicken breasts and simmer for 20 minutes.
Gently stir in the lime juice and eggs and simmer for another 5 minutes. The sauce will be loose and soupy. Season with salt to taste.
Serve with injera. from https://explorepartsunknown.com/ethiopia/recipe-doro-wett/
this is from https://explorepartsunknown.com/destination/ethiopia/ remembering Anthony Bourdain.
MISER WOT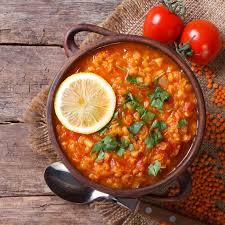 Ingredients
1 1/2 tbsp rawspicebar's freshly ground berbere.

1 cup red lentils.

1 yellow onion, diced.

4 garlic cloves, minced.

2 tbsp. olive or vegetable oil.

1 inch fresh ginger, minced.

1 cup canned chopped tomatoes.

kosher salt & pepper, to taste.

2 cups vegetable broth.

yogurt & cilantro (to garnish) (optional).
Preparation:
Rinse lentils in a sieve under cold running water and set aside.
In a medium saucepan, saute onions in low heat and after a few minutes add oil over medium heat until the onions turn golden, about 10-15 minutes.
Add ginger and garlic and saute until fragrant, about 2 minutes. Add RawSpiceBar's Berbere spices or instead use turmeric, stir until fragrant, about 1 minute.
Add lentils and cook for about 5 minutes.
Add chopped tomatoes and broth, bring to a boil. Lower the heat and simmer, covered, until lentils are soft, about 25 minutes. Stir occasionally, adding more liquid if needed. Salt & pepper to taste.
Serve with a dollop of yogurt and cilantro. To be eaten with fresh injera!